A few weeks ago, Microsoft has renamed its well-known Hotmail webmail service to Outlook.com. It was not just a name change; it has something more for its users – a fresh and modern UI design, social connection, makes users more productive with Office and SkyDrive, and much more. If you have already started using the new Outlook webmail, you may also want to access it on your iPhone or Android devices.
Right now, Outlook mail has no official mail client for iPhone and Android. Therefore, you need to manually configure your Android or iOS device's default mail app (or any alternative mail app that support POP3 protocol) to receive Outlook mail.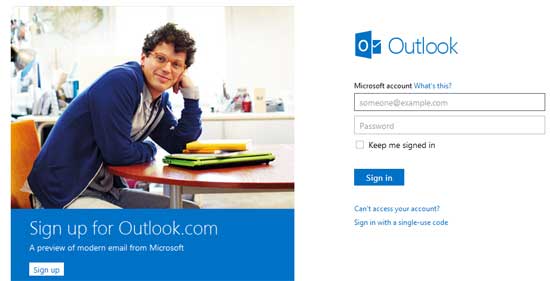 Configure Outlook webmail on Android and iOS (please note that there may have slight variation with device to device)
Step 1: On your iPhone or Android phone, open mail app and enter your full Outlook mail address (example@outlook.com) and password.
Step 2: Select manual configuration and then select POP3 (incoming server).
Step 3: Change port to 995 and POP3 server to pop3.live.com.
Step 4: Choose allow all SSL / TSL, then tap next.
Step 5: Now, configure the SMTP server (outgoing server) with the following information: server: smtp.live.com, Port: 587 and disable sign in option.
Finally, you can configure other options like notification interval, remember authentication, etc from the menu property of the app. That's all.