If you like customizations, numerous apps are available on the Play Store to give your Android phone a facelift from other similar phones. They are available in the form of themes, lock screen replacement, notification and status bar replacement, etc. Here is how to replace your Android phone's stock status bar with a new, more beautiful themable status bar.
Several status bar replacement apps are available on the Play Store. Omega StatusBar is one of them that can use to replace your stock status bar with a new one. You can give iPhone status bar, ICS status bar or other custom status bar to your Android phone with this app.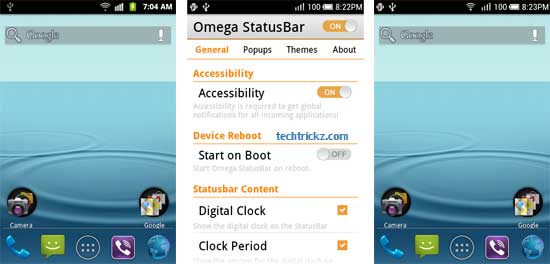 A main feature of Omega StatusBar is its support for other developers status bar. You can add several status bars to the app from Play Store that are designed for Omega StatusBar.
Omega StatusBar also offers many built-in settings and preferences to get the statusbar look just how you want it. You can on and off several notifications from the settings.
After installing the app, run it. From the "General" tab, you can on and off the Omega StatusBar and enable or disable several other features.
To get third-party notifications, you must give permission to Omega StatusBar through the Accessibility Manager. Switch on the "Accessibility" option or go to Settings > Accessibility and enable it.
From the "Theme" tab, you can install themes from other developers. Currently the list is very small and most of them are paid app.
Omega StatusBar can install from Play Store (there is also a pro version with more features).