One of the coolest features of MIUI is the built-in theming engine, which is comprehensive and let you customize the MIUI OS to your preferences. Pixel N theme for MIUI 8 brings Google Pixel's visual beauty to any Xiaomi phones runs on MIUI 8 ROM. In other words, Pixel N theme converts Xiaomi phones runs MIUI 8 into Google Pixel. The theme will bring Pixel launcher, system-wide round icons, Pixel boot animation and more. Read on to know how to install Pixel N theme on your phone.
In this guide, we let you know how to apply Pixel N theme on your Xiaomi phone runs MIUI 8. This theme is inspired by Google Pixel smartphone, which means you can experience Google Pixel's visual beauty (UI) on your MIUI 8 phone. Also, the Pixel N theme will give complete stock UI (vanilla) and experience to most Xiaomi smartphones running on MIUI 8.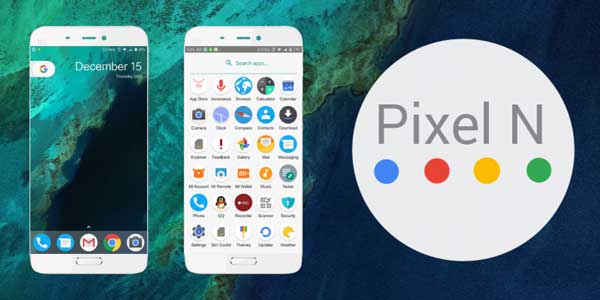 Before start, please note that the theme is available in two versions. One is free and the other is paid. While the free version is simple, the paid version offers various features like custom launcher, swipe left to open Google quick search, Google Pixel boot animation and stock Android Lockscreen.
Note: You can also get Google Pixel UI by installing Google Pixel Launcher. Read this guide to know how to install Pixel Launcher and make it default home screen for your MIUI phone.
How to install Pixel N Theme on MIUI 8 Phone
1. Download Pixel N theme from here and save it on your phone
2. Open the file manager and tap on MIUI folder.
3. Tap on Themes folder, copy and paste the Pixel N theme you have downloaded earlier.
4. Now, reboot your phone.
5. Once booted up, open the 'Themes' application from app drawer (or go to Settings > Themes).
6. In the options, choose Offline. Inside it, you will see the theme you have saved on your phone. Select the Pixel N theme and apply it.
7. Now, reboot your phone.
You have now Google Pixel look and feel on your Xiaomi Android phone (MIUI 8). Leave your views in the comment section below. (Source – miui forum)