There are plenty of apps available on Play store in both free and premium features for recording phone calls, but depending on the phone make and root privilege only a few works as intended. Now, the free app called 'Boldbeast Call Recorder' brings phone call recording function to any Android phone. It does not require root access in most cases and it is designed to work with any phone. If you have tried many apps to get call recording on your Android phone, but unsuccessful, the below guide should help you.
In this guide, we show you how to bring phone call recording function to any Android phone using Boldbeast Call Recorder. The benefit of call recording is pointless to mention here, but it may not be legal in your country. So, before bringing call recording function to your phone, check that recording your own phone calls is legal in your country.
The Boldbeast Call Recorder app does not require root access on most phones. It simulates a Bluetooth connection to record audio. Galaxy S7, S6, S5, S4, HTC One M9, M8, Desire 820, Moto X (Lollipop), Moto G (Lollipop), LG G4, G3, G2, Xperia Z4, Z3, Z2, Huawei Honor 7, Honor 6 plus, Honor 6, Ascend Mate7, Xiaomi, ZTE, OnePlus, Micromax, Xolo, etc. does not require root to record phone calls.
However, some phones, such as Moto G, E, X (Marshmallow), Nexus 6P, Nexus 6, Nexus 5X, Nexus 5, Nexus 4, etc. requires root access. See complete phone list here.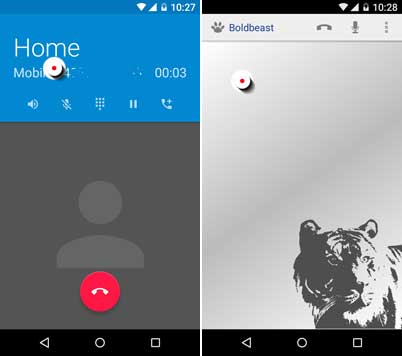 Note: If you have root access on your phone, the app can fix recording problems for almost all phones and record calls well.
How to use Boldbeast Call Recorder to record phone calls
1. First, go to Play store [HERE] and install Boldbeast Call Recorder on your phone. It is a free app.
2. If your phone listed in the non-root category, then skip the steps 3, 4 and 5.
3. If your phone requires root access, open the Boldbeast Call Recorder, tap the tree dots menu and then tap on Settings. In Settings, select "Call Settings," then tap "Fix Recording Issues"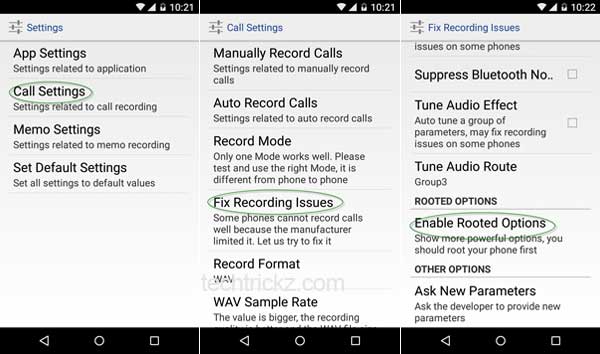 4. Now, tap on "Enable Rooted Options", tap "Enable" and then grant SuperUser permission.
5. Now, go back to the main settings menu and you need to make changes in "Record Mode", "Record Format" and "Fix Recording Issues".
The exact configuration will vary depending on your device. For example, on rooted 2nd Gen Moto X (Marshmallow) do as follows:
Record Mode: 1
Tune Audio Effect: No
Tune Audio Route: Group3
Change Audio Controls: Yes
Change Audio Driver: No
Start Input Stream: test Yes and No
If you have any other device that requires root to record phone calls, the developer has listed the proper settings on his forum. Go here [HERE] to get the settings.
How to Record phone calls
1. Simply make a phone call
2. You will see a small "Record" button near the upper-left corner of your screen.
3. Tap this button to record calls. Both sides of the phone call will be captured in crystal-clear quality.
4. To stop the recording, just tap the floating "Record" button again or simply hang up the phone.
Note: To hear your recording, open the Boldbeast Call Recorder app, tap the phone icon at the top of the screen, then tap any recording on the subsequent menu to listen to it.