TeamWin has released version 3.0.0 of TWRP custom recovery with new theme, a raft of new options and new features like True Terminal Emulator, option to flash parts of factory images and more. The version 3.0.0 supports all Android devices that are currently supported by the recovery and became an indispensable tool for every rooted Android phone.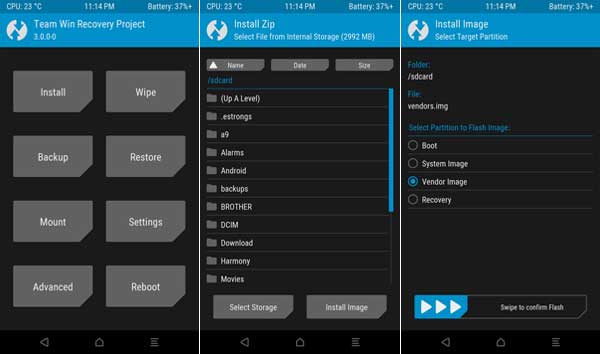 TWRP custom recovery is one of the most popular options for flashing custom ROMs and Zip files. It supports a number of Android devices and even lets you backup and restores your complete system. Below are the major changelog and new features of TWRP 3.0.0.
– Completely new theme – Much more modern and much nicer looking

– True Terminal Emulator – Includes arrow keys, tab and tab completion, etc.

– Language translation – It won't be perfect and especially some languages that require large font files like Chinese & Japanese won't be availble on most devices. Also some languages may only be partially translated at this time. Feel free to submit more translations to OmniROM's Gerrit.

– Flashing of sparse images – On select devices you will be able to flash some parts of factory images via the TWRP GUI

– Adopted storage support for select devices – TWRP can now decrypt adopted storage partitions from Marshmallow

– Reworked graphics to bring us more up to date with AOSP – includes support for adf and drm graphics

– SuperSU prompt will no longer display if a Marshmallow ROM is installed

– Update exfat, exfat fuse, dosfstools

– Update AOSP base to 6.0

– And many minor fixes and tweaks
TeamWin has also published a few warnings with this release. As this release brings some significant changes, it is possible that some devices will not boot correctly or have display related issues due to the graphical changes. In such a case, you are recommended to reflash an older build of TWRP or wait for the fix. You can read more about this here.
TWRP custom recovery is fantastic, and if you are still using other custom recoveries, then it is highly recommended that you make the switch now and see what this little beauty can do for you (Source)