Google Navigation and Live Traffic Data Now Available in India
By Kannan on Sep 5, 2012
@techtrickz
Google has introduced navigation and live traffic feature to Google Maps in India. Google Maps Navigation (Beta) is free and can be accessible on any Android Phone (running Android 2.2 and above) and live traffic information is visible on both the mobile and desktop versions of Google Maps.
The live traffic information is currently available for six major Indian cities and their surrounding suburbs: Bengaluru, Mumbai, New Delhi, Chennai, Pune and Hyderabad.
To help you analyze the traffic on your route at a glance, the live traffic data is displayed in a simple and readable color schemes: Red for significant congestion, Yellow for minor slow-downs, and Green for free-flowing traffic. Also, your phone will announce upcoming directions to you as you move along your route.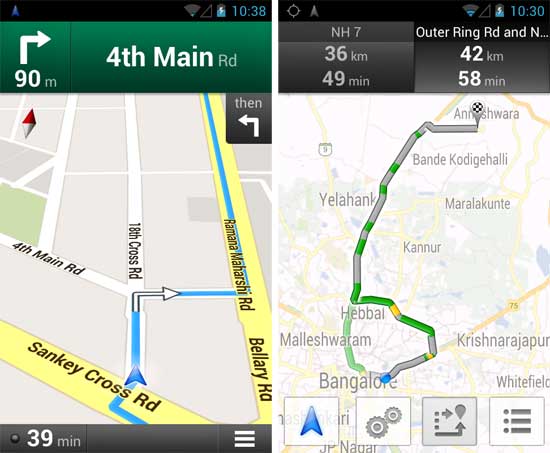 Google Maps Navigation is indeed a best and free navigation service available out there for Android users and this new move from Google helps millions of Indian users to plan their route. Read more about this at Google India official blog.
Kannan
is a computer and Android enthusiast, a blogger by passion and a tech freak. His always ready-to-help attitude, knowledge and hard work is what drives him.
Latest Updates

Kannan | Jan 24, 2015

If you are an Android freak who owns an Android One smartphone, such as Micromax Canvas A1, Spice Dream Uno or Karbonn Sparkle V and looking for a simple...

Advertisement

Find us on Google +

Find Us On Facebook

How to Guide
Gadget & Mobile

Internet & Browser

Security Tips
Copyright © 2015.The content is copyrighted and may not be reproduced on other websites. Techtrickz.com is not affiliated with any of the device manufacturers listed on this site. All trademarks and images are the identity of respective firm. Use of these trademark and images are subject to their permission.