If you want to get everything back to how your HTC U11was before, the easiest solution is reinstalling stock firmware (RUU file) on it. Whether you want to sell your phone, recover from a serious problem, or feel nostalgic about stock ROM (HTC Sense ROM) after installing a custom ROM, this would be the simplest solution. Restoring stock firmware (RUU file) will return your HTC U11to its untouched, unrooted state.
The following guide will help you unroot and get your HTC U11 back to the stock ROM. HTC U11 is the recent flagship from the OEM. The device was recently updated to Sense 9 skin (Android 8.0 Oreo) with a number of new features, enhancements, bug fixes and November 2017 Google security patches. Your devices is rooted and running on a custom ROM, but want to go back to HTC's Sense 8 or Sense 9, then you need to flash stock firmware (RUU file) manually.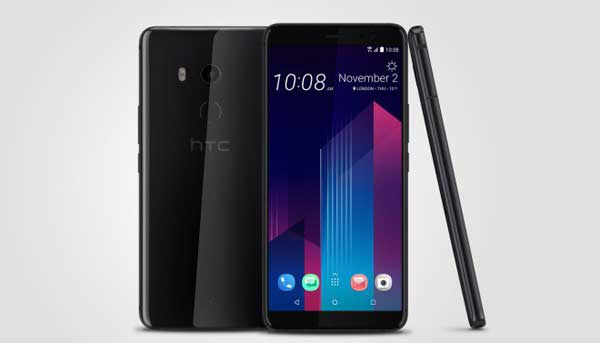 To restore/flash stock firmware (RUU file) on your HTC U11, you have to download the official firmware from HTC and flash it. The whole process requires only a few minutes and easy following, but should have knowledge of adb/fastboot.
Prerequisites:
– Before proceeding below steps, back up everything important on your phone.
– ADB and Fastboot driver setup on your computer.
– HTC U 11 firmware (RUU file) (download link below).
Note: The fail-safe method to unroot the UTC U11 is reinstalling stock firmware back on it. The below mentioned file is the original software and by flashing it you return your phone to its untouched, unrooted state.
How to Unroot and Get Your HTC U11 Back to Stock ROM
Disclaimer: Follow the instruction at your own risk. We will not be liable if any damage occurs to your device and/or its components. It is recommended for technically talented users only.
1. Boot HTC U11 to 'Download' mode (To do so, switch off the phone, press Volume Down + Power button for few seconds).
2. After rebooting into 'Download' mode, connect your phone to PC, go to the ADB and Fastboot folder, and then open a command prompt window inside.
3. In the command prompt, type below command and press enter key:
fastboot getvar all
4. The above command will show your original software version. Note down it.
5. Now download the latest RUU,zip file from HERE (source) (download RUU.zip file, not the RUU.exe file).
6. After downloading the RUU.zip file, rename the zip file to 2PZCIMG.zip and transfer it to root of your SD card.
7. Once again reboot your HTC U11 into 'Download' mode.
8. Your phone will automatically detect 2PZCIMG.zip (you just transferred to your phone). Press Volume Up button to confirm flash of RUU. As soon as your RUU has been flashed successfully, your phone will reboot automatically.
Now you have successfully restored stock firmware on your HTC u11. Now you have a box fresh phone with stock recovery. Any question? Leave it in the comment section below. (Source – XDA).