As you all know, all major web browser have an option to switch to private browsing mode. In this mode, all browsing activities will be deleted once you close the browser. Of course, you can quickly switch between private and normal browsing mode by using shortcut keys (for FF & IE: Ctrl + Shift + P, for GC: Ctrl + Shift + N), but how to open a particular link in private browsing mode while you are in normal mode.
For Firefox users there is an add-on called 'Open in Private Browsing Mode' that enables a right click menu option to launch any link into private browsing mode.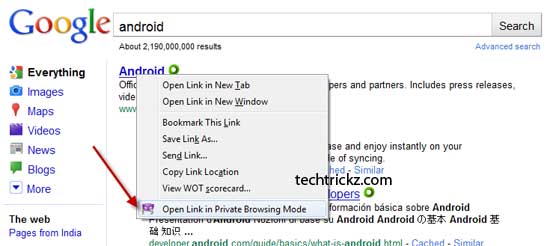 After installation, while browsing in normal mode, just right-click on a link that you would like to open in private browsing mode, and select "Open in Private Browsing mode" option.
Firefox will switch to Private Browsing and automatically open the link you selected.
Firefox users can install this restartless add-on from Mozilla add-on website.