SO.HO Launcher Brings Facebook & Twitter Experience to Android Home Screen
There are several launcher app available on the Google Play store. Apps such as GO Launcher EX, Nova Launcher and Smart Launcher offer a whole new way to use your Android phone by offering new user interface, improved scrolling, transparency, improved arrangement of widgets and icons, and more. Here is something a different launcher app for social media lovers.
Called SO.HO [SOHO Social Launcher], it offers full screen social media experience on your Android home screen. Currently it supports Facebook and Twitter only and make it easier for you to see what is happening on your favorite social networks – just unlock your phone and Tweet, update status, like, comment or check-in, at a tap.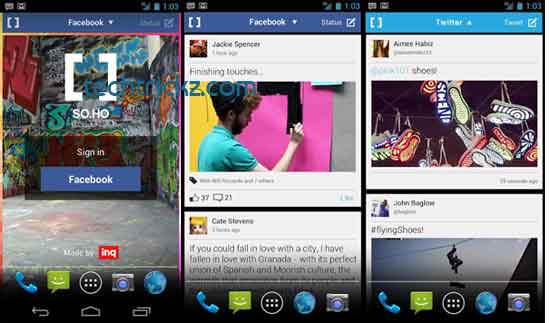 SO.HO is simple to setup and use. After adding it to Android, tap the icon and choose to use SO.HO launcher instead of the stock launcher.
Once you've logged into your Facebook or Twitter account you're ready to go. You can easily switch between Facebook and Twitter by taping the title bar.
SO.HO is currently a beta app, so it contains bugs and may not work properly for you. It works on phones running Android 4.0 (ICS) and above and not supports tablets.
You can download it from Play Store for free