In certain occasions, you might want to reduce your phone's screen brightness below the minimum level to protect your eyes. For example, if you want to use your Android phone in a low light area or in the dark for long time. Even if you set the brightness level to the minimum, the light emanating from the screen is good enough to feel a slight discomfort, but the Midnight (Night Mode) app can decrease the brightness even further.
Midnight (Night Mode) lets you reduce the screen brightness below the minimum level as per your requirements. You can set a manual, scheduled or automatic mode to control the screen brightness and all modes are working fine. Also, there is a persistent notification with controls, which let you control the brightness with a simple touch.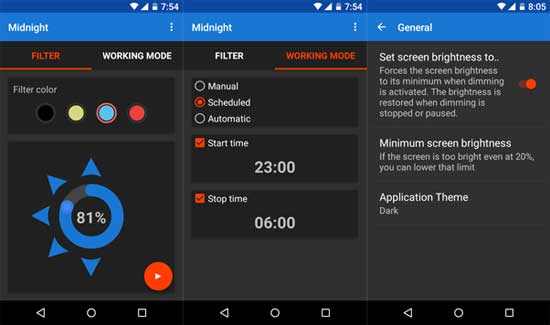 The application is completely free (ads free) and can help you protect your eyes from strain due to brightness from the screen. The screen filter option lets you slightly change the screen color in the dim mode to better adjust the screen to your likings. It not only protects your eyes from bright light, it will also do not disturb others in the dark.
It can also reduce battery consumption and protect the display from burn out, if your phone has AMOLED display. As each pixel is controlled and black pixels are not use energy in AMOLED display, reducing the screen brightness to dark and applying the black screen filter can save battery. Also, AMOLED display gives brilliant (20% brighter) as well as glare free experience, but it can easily burn out if you use bright background.
You can download Midnight (Night Mode) app free from Play store [HERE].