The mid-range Galaxy Grand Duos I9082 will not get Android Marshmallow update officially from Samsung, but since developer communities are supporting the device, you can enjoy Android Marshmallow on it. An unofficial builds of Android 6.0.1 Marshmallow custom ROM based on the CyanogenMod 13 is now available for Grand Duos, which you can flash right now.
In this tutorial, we show you how to install Android 6.0.1 Marshmallow (CM13) on Galaxy Grand Duos I9082. Besides the pure Android experience, Marshmallow update brings features like Doze mode, app control and app permissions management, Now On Tap, etc. to your Grand Duos. Also, the update may extend the battery life by 20%.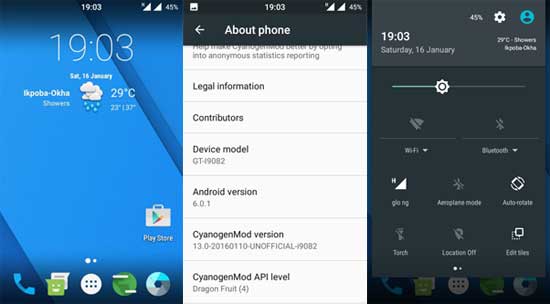 To install Android 6.0.1 Marshmallow (CyanogenMod 13) on Galaxy Grand Duos I9082, your device should be updated to stock Android 4.2, because this custom ROM does not work on 4.1 stock ROM's bootloader. Also, the Marshmallow update for Grand Duos given below can be installed only by using a custom recovery like TWRP and requires root access.
Important Note: Keep in mind that, this unoffcial CM13 ROM is experimental and contain several bugs. It may brick your device, so use at your own risk! Backup every data before flashing the ROM.
What does works (as of January 26, 2016 ):
– Wi-Fi
– Bluetooth
– RIL (Calls, SMS, Mobile Data)
– Sensors (Accelerometer, Compass, Light, Proximity, etc.)
– Camera
– Video (playback only)
– Audio (playback & recording)
– GPS
– Everything else not listed under "known issues"
Known Issues:
– Runtime storage permission does not work properly (setns patches are not applied, see PermissionsHostTest CTS test)
– AOSP keyboard does not support gesture typing even with gapps installed. This is to prevent crash with not fully compatible gapps packages. If you want gesture typing, install Google Keyboard from the Play Store.
– Sometimes wake up causes music stutter
– Additionally, Dual SIM has the following limitations (once they work):
– Both SIMs are always enabled (no way to disable one SIM)
– Receive incoming call while data is enabled is always enabled
Installation Instruction:
Disclaimer: Flash the ROM at your own risk. We can't take responsibility for anything that goes wrong. This guide is intended for technically talented users only.
1. Download the Android 6.0.1 Marshmallow ROM zip file [HERE] and copy the zip file to root of your SD card (not in any folder)
2. Now, boot your Grand Duos into custom recovery mode. To do so, switch Off your device and press Volume (+), Menu, Power buttons together.
3. In TWRP recovery, select 'Wipe' and do a full wipe (cache partition, data wipe/factory reset, dalvic cache)
4. Now, select 'Install', choose ROM zip file and flash the ROM.
5. If you want Google Apps, flash Gapps as well (download Marshmallow compatible Gapps [HERE] and copy it your phone)
6. Once again, do a full wipe (Data wipe/ Factory reset, cache partition and dalvic cache)
7. Now, go to the main menu and reboot your phone.
Your Samsung Galaxy Grand Duos will boot into Android 6.0.1 Marshmallow OS version. Setup and enjoy (Source – osas514)