Google update its keyboard app to version 5.0 with a number of new features. The Google Keyboard v5.0 brings one-handed mode, keyboard height adjustment, new gestures, UI changes, and many more. Google starting to roll out the new update and it may take a while to get it on your device. Read below to know the new features and changelog of Google Keyboard v5.0.
One handed mode, gesture typing and keyboard height adjustment are the best new features of Google Keyboard v5.0. If you are using big screen devices like the Nexus 6 or Nexus 9, the one-handed mode can have great help when you have your hands full. The keyboard height option let you specify how tall the keyboard is which will help you save the screen estate. And the new gestures improve your typing speed.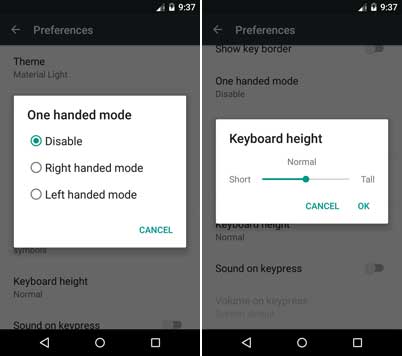 There are a huge number of changes in Google Keyboard v5.0. Below are the new features and full changelog of this new update.
– One-handed mode toggle
– Keyboard height setting (5 positions from short to tall)
– New emoji/numpad button locations surrounding the space bar
– Opt-in and a setting for sharing snippets with Google to improve the keyboard for everyone (what and how you type)
– Show key border toggle
– Long-press for hinted symbols toggle
– Holo White and Holo Blue themes phased out
– New first-time user experience (FTUE)
– Dynamic floating preview toggle removed
– Enable gesture delete toggle (slide left from delete key)
– Enable gesture cursor control (move cursor by sliding across space bar)
The One-Hand Mode can be accessed through the settings (preferences menu) or with a long-press on the comma on the search/enter button. Once activated the keyboard shift to one-side (depending on the screen size) and other side with two icons – one for full-screen mode and other for left/right side selection.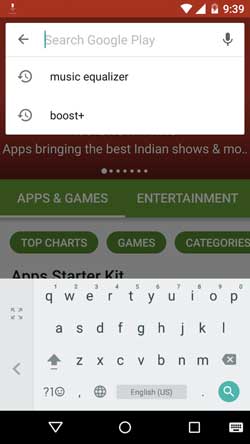 The keyboard height option can be accessed from Google keyboard preferences menu. You can select five height options (short to tall) using the slider.
In the gesture typing, you will now see dynamic suggestions in the suggestion bar instead of floating along with your finger. Also, now you can delete words by sliding left from the delete key and control the keyboard cursor direction of your choice across the space bar.
As Google rolling out this update in stages, it may take a while to get the update on your device. Interested users can download the keyboard apk from APK Mirror [HERE] and install it manually. However, this version currently does not support Android N. (Source – AP)