Datally is a new mobile data manager app from Google, which helps cut down your mobile data usage smartly. Of course, latest Android version has a data saving function, but if you are looking for even a better way to cut down your data usage, then Google's new Datally app might help you. The app helps you save up to 30% of mobile data using various methods.
Datally works on Android 5.0 and up and very easy to use. It will tell you which app is using how much data, it lets you control and limits data on specific apps and much more. If you are looking for a good data saving app for your Android phone, then Datally could be the best way to save your valuable data.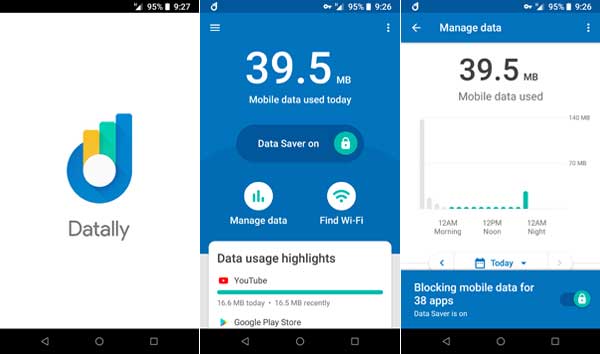 It is easy to exceed your monthly mobile data limit without knowing where it all goes. The main culprit is background data usage of apps. You can save mobile data usage by restricting background running apps' internet access and by blocking any app accessing internet when in mobile data.
With Datally, you can stop background data usage to all apps, except the one you are using with the help of a simple button located top and center. Also, this app will show real-time data usage of current app.
For your information, Facebook, Google Play Services, Instagram, BBM, Snapchat, Line, Spotify Music, Clean Master, Amazon Shopping, etc. are responsible for using the most data on an Android device.
The app also provides a detailed view of your usage history and which apps are using the most. You will also receive recommendations on when to turn on the data saver.
Datally app has also a Wi-Fi finder function. You can find nearby Wi-Fi networks along with details like distance. Before connecting to a Wi-Fi network, you can see how other Datally users have rated it. You can also rate Wi-Fi networks that you've connected to.
Datally: mobile data-saving & WiFi app by Google can be downloaded free from Play store here.