Few days back Microsoft has released its new operating system Windows 8 and Windows RT (for tablet PC). Surprisingly, Microsoft has sold over 4 million copies of Windows 8 with in the first few days of the release. Whatever will be that, it is very important for us to know whether our old software and hardware devices are compatible with this new OS or not. Here is how to check it.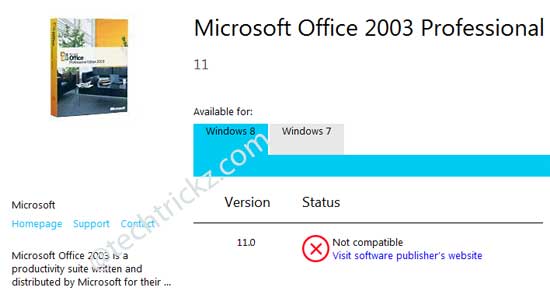 Note that, the Windows 8 is designed with compatibility in mind. If an app or device ran on Windows 7, it should also run on Windows 8.
With the Windows Compatibility Center released by Microsoft, you can easily identify whether an application or hardware device is compatible with Windows 8 or not.
From the site, you will be able to browse or search software and devices to know whether your favorite apps such as office suite, antivirus programs, games, browsers, system utilities, etc. and hardware devices are compatible with Windows 8.
Also, you can use the portal to get links to driver downloads and software updates, as well as view what other users have to say about product compatibility.
How is the product compatibility determined?
"The product has passed Windows certification requirements and received a logo, which indicates it has met Microsoft testing requirements for compatibility with either Windows 8, Windows RT and/or Windows 7".
"The app publisher or device manufacturer stated this products works with Windows 8, Windows RT and/or Windows 7. Please note that these products have not undergone certification tests and may or may not be fully supported by the manufacturer. You should visit the manufacturer's website for more information"
"For products we have not tested, compatibility statements for Windows 8 are being provided based on the product's compatibility status for Windows 7".