You probably rely on your smartphone for many things. You may use it to work remotely by synchronizing your corporate email and the network, connect with your friends and colleagues, and many other personal and professional uses. In addition, there is a great deal of personal and professional data residing on your smartphone. So you might protect it, otherwise, if obtained by a user with nefarious intentions, your data would be vulnerable.
But, protecting your smartphone is a challenge, because they are small and easily lost or stolen. Thankfully, there are several easy measures you can take to secure your device from theft or lose [In previous posts, we had written some articles on how to secure a smartphone from theft, and viruses].
Microsoft has released a simple guide titled 'Securing Your Windows Phones' which provides good information on securing your Windows Phone.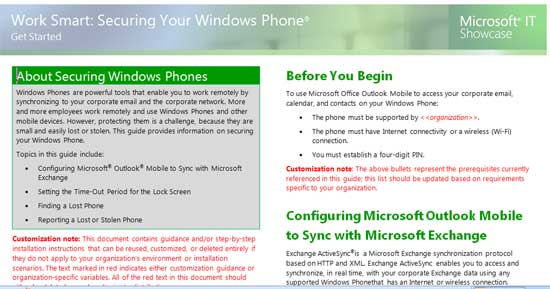 This guide describes how to Configuring Microsoft Outlook Mobile to Sync with Microsoft Exchange, Setting the Time-Out Period for the Lock Screen, Finding a Lost Phone and Reporting a Lost or Stolen Phone.
Interest Windows Phone users can download the guide (Word doc) from Microsoft here.