As you may know, the new Android 4.2 Jelly Bean has an improved lockscreen, which now lets users add widgets of their choice and take advantages from it without unlocking the device. For example, install DashClock, a beautiful clock widget app on your Android 4.2 device and you'll get many useful information right on your lockscreen such as your local current weather, unread emails, missed calls, etc.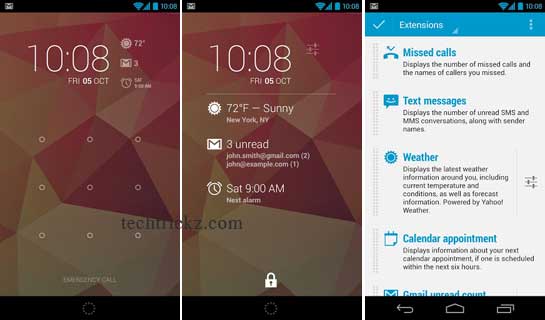 DashClock is an open source, excellent clock widget app for Android 4.2 devices. You can replace the stock clock widget app with it and bring many additional features such as your current local weather, missed calls and unread text messages, your next calendar appointment, your next scheduled alarm and even your unread Gmail messages on the lock screen.
To add the DashClock widget to your Android 4.2 device's lock screen, simply swipe to the left-most page of your lock screen and touch the "+" icon. Then, select "DashClock" to customize and add the widget.
DashClock app can be downloaded free at Play Store.