When you browse the Internet on your Android smartphone or tablet via its stock browser, some Websites loads only in its mobile versions. However, if you would like to view the website in its desktop mode (as seen on your PC) you need to make a small alteration in the stock browser. Here is how to set Android stock browser to open webpages in desktop mode only.
Browse any site in desktop mode on Android Stock browser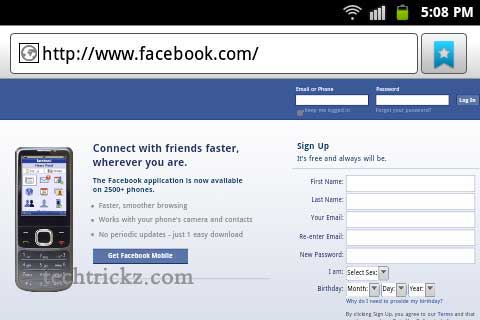 Smartphone or tablet with Android Gingerbread
Open the Android stock browser (Internet) and type about:useragent in the address bar and hit enter.
A popup window will appear. It'll display some useragents such as iPhone, desktop, nexus one, custom, etc. Select "Desktop" from the list and save the settings.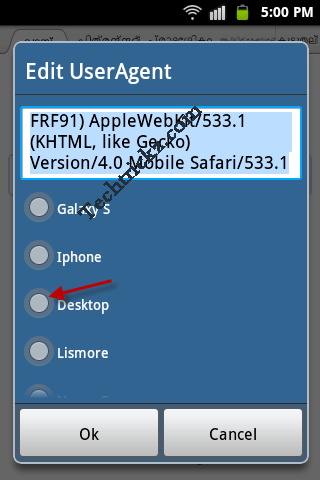 Note: You can also add custom useragent. For that, select "custom" from the list and enter the usergent you want (for example: Mozilla/5.0 (Windows NT 6.1; rv:15.0) Gecko/20100101 Firefox/15.0.1) and click Ok to save the settings.
Smartphone and tablet with Android ICS (Ice Cream Sandwich)
Open the stock browser and tap settings. You will find a lot more options available under Settings menu.
Tap on "Labs" or "Debug" option and select "Desktop" under "browser mode". Save the settings.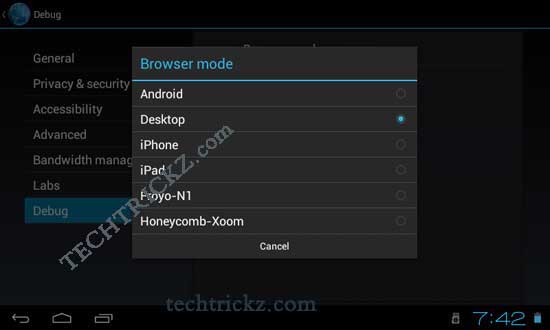 Now test your changes by going to a URL, for example Facebook. Now, every web site will forced to load only in desktop mode.
Note: to change it mobile view, follow the same step above and choose a mobile version, for example, Android or iPhone instead of desktop version.