Screen Backlight Off is designed to turn off your Android phone's screen backlight to keep the battery long last when you use YouTube app or any other video player app for listening music. In other words, you can use Screen Backlight Off app to save the battery when playing music on YouTube app.
Usually, YouTube or any other video player keeps the screen awake when you use it, but if you just want to enjoy the music or sound from the video, the always-on screen will unnecessarily drain the battery. When the screen is turning off, the playback will also stop. Screen Backlight Off app disables the screen completely without interrupting the playback.
Developed by an XDA contributor cygery, the Screen Backlight Off requires a rooted phone with LCD display. Because the AMOLED screen uses a different method, the app will not work properly. This app switches only the screen backlight off but not the complete screen and you can turn on the screen at any time by simply touching the screen.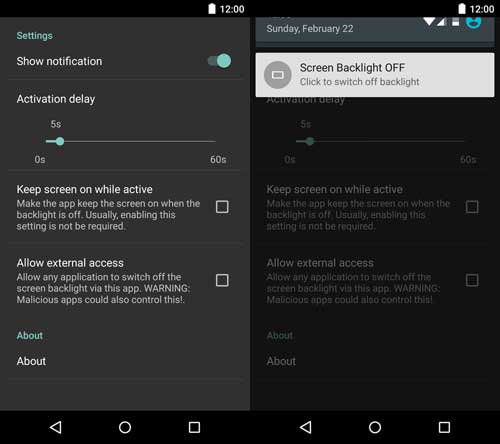 The app features the following
– Notification to switch off screen backlight quickly
– Backlight off activation delay (0S – 60S) can be configured as per user requirement.
– Provides option to keep screen on (usually not required)
– Shortcut to allow other apps to switch off the backlight via this app
An XDA-exclusive free version of the app can be downloaded from the thread here. You can support the developer by downloading the paid version from Play Store here. (source – XDA)