Few days back, the Google Play variant of Samsung Galaxy S4 received the Android 4.3 update. As there is no hardware difference between the Samsung Touchwiz and the Google Play variant of the Galaxy S4, you can install Google Play edition ROM on your Touchwiz Galaxy S4 without any issue and enjoy pure Android experience without any boltware apps.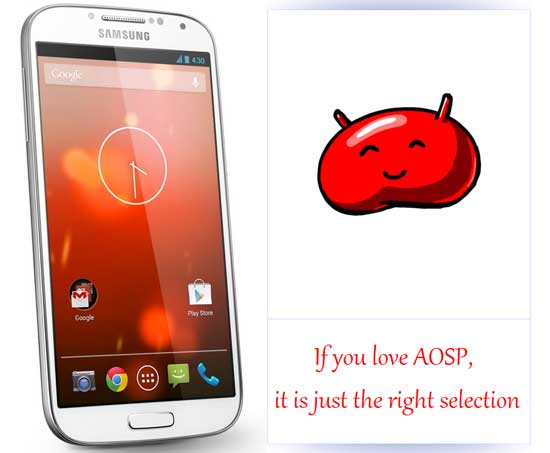 For installing the Android 4.3 Google Play ROM on your Samsung Touchwiz based Galaxy S4, you need Android 4.3 Google Play Edition ROM (Download it from here) and any custom recovery (TWRP/CWM) installed.
Procedure:
Warning: Do below guide at your own risk. We'll not take any responsibility if anything went wrong while doing this. Also, don't forget to make nandroid backup from recovery.
Copy the download Android 4.3 GE edition ROM and transfer it to your device's SD card.
Restart the Galaxy S4 in recovery mode. Turn off phone and press and hold the VOLUME UP + HOME + POWER to enter into recovery mode. From recovery mode, wipe data and cache.
From recovery mode, choose zip from SD card, browse, and select the zip file you just transferred to the SD card. The installation will begin and will complete after a few minutes.
Reboot your device and enjoy pure Android experience on your Samsung Galaxy S4. See below video to know how it works.
The stability like the original firmware by Samsung and exceptional flexibility makes the S4 Google Edition Rom usable in 'everyday' without any problems.