Your Android phone's address book can hogged up with duplicate contacts or contacts with more than one entry for various reasons. For example, if you transferred saved contacts via Bluetooth, got someone in your address book as a Twitter contact, Facebook contacts, phone number or email address, etc. Here are few ways to get rid of contacts with more than one entry.
Remove duplicate contacts from Android Address Book
First Option: If you are using your Google account on your Android phone, you can easily remove duplicate contacts from your address book. Simply head over to contacts.google.com and sign in with your Gmail account (account that you connects with your Android phone).
Click "More", and then click "Find & merge duplicates". If there are any, they will link together. Alternatively, you can individually select contact with more than one entry and delete it. Select contacts, click "More" and choose "Delete contacts" option.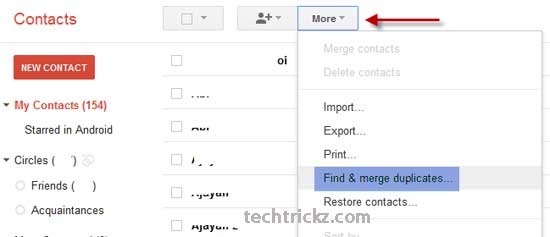 Alternatively, open Contact app, tap menu and choose "Delete" option. Choose contacts that you want to remove and tap "Delete" option.
Second Option: If your Facebook or Twitter contacts are imported into your address book (chances are there), the simplest way to get rid of them is by choosing display contacts with phone number.
Open "Contact" app, tap "Menu" and choose "Display option". Then enable "Only contacts with phone number" and tap done button (the options may differ in your phone).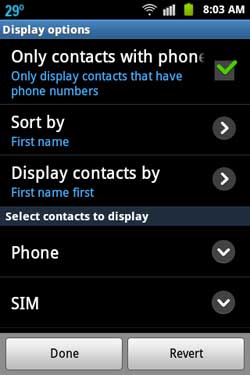 Alternatively, Bring up the app's menu, tap Accounts, choose desired account from the list and choose "Remove account" and you'll be able to get rid of them.