Several things have been available on Play Store to make your Android phone look like the new Android L Material design. Perhaps one of the best among them is the Moonshine Material Design UI icon pack. The icon pack contains more than 380 high quality icons that you can use to change your phone's stock icons.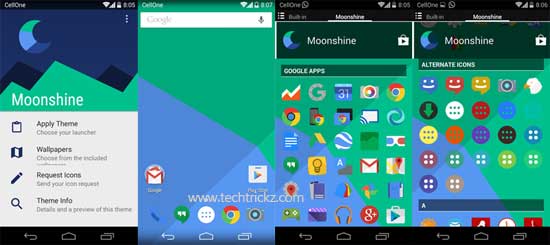 Moonshine icon pack supports all popular launchers such as Nova, Apex, ADW and Go Launcher. It can also be applied to your phone directly by using an icon changer app, for example, Beautiful Icon Styler app that lets you easily change icons on homescreen.
In addition to the icons, Moonshine has also offers a number of wallpapers – most of them are in Android L design- that can be downloaded directly from the app and set as them wallpaper right from the app.
Moonshine icon pack features the followings:
– More than 380 high quality icons to choose (XXX-HDPI – 196×196)
– It is totally free and compatible with Nova, Apex, ADW, Smart, Unicon, Action Launcher, Aviate, Go Launcher, etc.
– Updated frequently with new icons
– Option to request icons that are not included in the package
Keep in mind that, to change your stock icons you need a third-party launcher installed on your phone. Alternatively, you can use an icon changer app; however, most of them require root access.
Moonshine icon pack can be downloaded from Play Store