Google releases 'Files Go' app to manage your Android phone's internal and external storage. A beta version of the app is already available on Play store (unreleased), which you can try out now. Google Files Go is lightweight and offers various options to free up space on your device. It helps you remove everything that isn't needed on your Android phone with easy.
Google Files Go is not just an app to regain storage spaces on your phone. It also offers offline file transfer with nearby devices (requires Files Go app installed on both devices). In addition, the app is also a File Manger. Files Go helps you find your important photos, videos, and documents faster.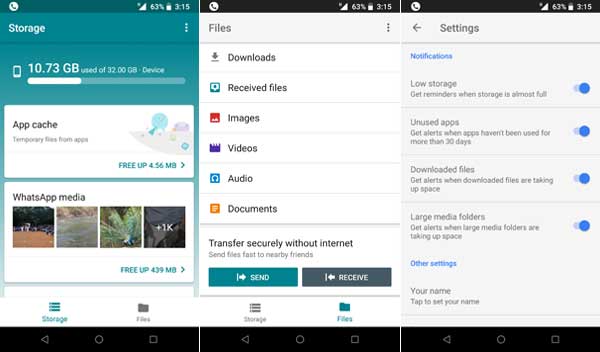 Google Files Go app helps you keep your Android device in good health and faster performance. With this app, you can easily delete apps cache (temporary files accumulated by apps). It not only saves your device's storage space but it also resolves problems like app's force closes, lags, etc.
Also, it helps you identify and remove duplicate images, including duplicate images received through social media app like WhatsApp. This option helps recover a large amount of storage space.
The app also recommends you to remove rarely used apps, which not only helps you save storage space, it also speed up your phone.
Also Read: HTC Boost+ App Automatically Boost Your Phone's Performance
Features of Google File Go:
– Recommends rarely-used apps to remove so your phone stays speedy
– Recognizes and helps you get rid of spam & duplicate images
– Helps you find your important photos, videos, and documents faster
– Makes it easy to share your files offline — quickly and securely
– Files Go Beta is light on space — under 6MB
The present status of File Go is Beta, so you may run into some issues while using it on your Android phone. Interested users can download the app free from Play store here.