CleanSave is a handy extension for Chrome that lets you edit and save web pages as PDF or text file to your Google Docs or Dropbox account directly from Chrome. You can also save the pages as PDF or text files locally or print it. Also, as its name implies, CleanSave lets you remove unwanted contents (images and text) from web pages before saving.
CleanSave is very simple to use. After installation, activate CleanSave (click on its icon) on a desired page that you want to save or share, optimize the content with editing tools and then select desired output.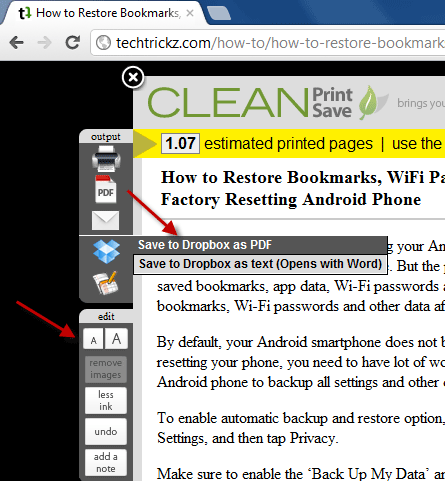 The built-in editing tool lets you change font size, remove unwanted images and text or add a note to your content before saving.
The edited content can be saved as PDF document or text file to your Dropbox or Google Doc account, send the content via email, print or post a link to your article on Facebook, Twitter, Google+, etc.
CleanSave can be downloaded from Chrome Webstore.