Avast Browser Cleanup is a portable utility designed to remove unwanted toolbars and plug-ins from your browsers. Toolbars and add-ones (many toolbars are also integrated as add-on) can make your browsing slow and most of them are unsafe to use. This simple utility serves you to get rid of them from your PC.
It is easy to use the utility. Simply download and run it without the need to install anything. Once you run the utility, you will see installed toolbars and add-ons, including some that may not appear in the browser's own settings and preferences.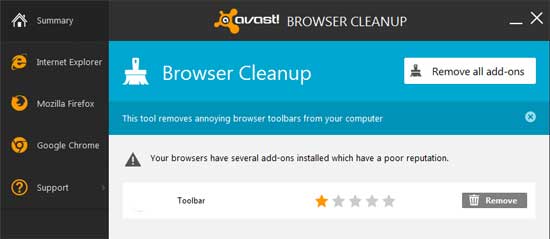 You can remove unnecessary add-ons and annoying toolbars either selectively or completely with a single click. Click "Remove all ad-ons" button to delete them completely.
In addition, Avast Browser Cleanup lets you restore your browser settings (homepage and default search provider) to default. After removing toolbars or add-ons, select your browser (IE, Chrome, Firefox) and click "Rest settings" button.
Avast Browser Cleanup can be downloaded (2.7MB) from here.