Google has started to roll out the first Android N OTA update for Nexus devices that are enrolled for the Android  beta program. This is a minor update (just weigh 30 MB), which addresses some stability and performance issues, and fixes bugs found in the previous build. It seems that the new update is for the Nexus 5X and Nexus 6P (NPC56W) and Nexus 9 and Nexus 9 4G (NPC56X) only.
Though complete changelog not yet available for the new Android N update (NPC56W/NPC56X), we have noticed that this new update fixes the fingerprint sensor lag (not waking up the phone when touching on the sensor) on Nexus 5X and Nexus 6P. This new update might have other bug fixes and performance tweaks.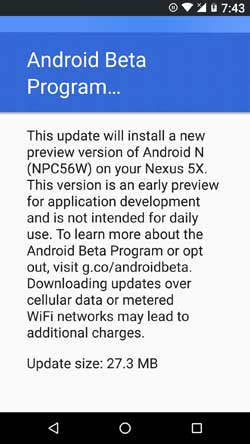 Factory images for the new Android N update are already available for download (Nexus 5X & 6P – NPC56W, and Nexus 9 & 9 LTE – NPC56X). If you are coming from marshmallow, you can download the Android N factory image [HERE] and install it manually.
As you may know, Google started a new Android Beta Program a few days ago, which lets you test Android N preview via OTA update. To get the update, you have to be enrolled in the Android beta program.
It is the safest method to test out new Android version and it will not erase your personal data as with manually flashing the factory image. (Source)