Undoubtedly, Android 5.0 Lollipop is the most important update ever. The new mobile OS brings several visual changes and adds many new features to the widely popular mobile and tablet platform. Indeed, Lollipop is the sweat new take on Android. Let us see why Android 5.0 Lollipop is the most important update ever.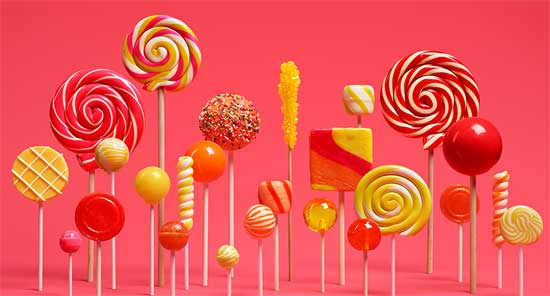 It seems that Google will roll out the Android 5.0 Lollipop update to select devices next week. Many smartphone manufactures, such as Motorola, LG, Sony, Samsung, HTC, etc. are also on the go to update their flagship devices to Android 5.0 Lollipop.
Why Android 5.0 Lollipop is The Most Important Update Ever
1. Material Design: The new 'Material Design' brings more depth to the platform's appearance using shadows. Color patches based on the content being displayed, new animations, touch feedback, typography, etc. make the overall look and feel of the OS is more smooth and responsive.
2. Enhanced Security: Just like iOS, Android has also enabled encryption by default with Lollipop update. It is designed to help protect data on lost or stolen devices. The Kill Switch, which works like a factory reset protector, could safeguard your phone from theft.
3. Battery life: Another area of improvement in Android 5.0 Lollipop is battery life. The new battery saver mode can squeeze out power from your battery for an extra 90 minutes. Also, it is easier to manage your apps power usage.
4. Modified Multitasking: Android Lollipop brings multitasking to a new level for you. Open apps will now appear as cards in a carousel, which you can browse through by sliding up or down on the screen.
5. Guest accounts/Device Sharing: The guest account on your Android phone makes it easy to share your phone with your friends and family members. Also, it can be useful to sign in on someone's phone if you lose your device.
6. Quick Settings: Google has introduced new ways for users to setup their device with Lollipop. You can access popular settings such as casting, screen rotation, hotspot controls, etc. with just two swipes down from the top of the screen.
7. Revamped Notifications and Priority Mode: Now you will be able to see notifications on your lock screen and they will be automatically listed in priority order. Also, incoming calls will not interrupt your gaming or video in between anymore. You can now choose answer, reject or continue to do what you were doing.
8. Performance Enhancements: Android 5.0 Lollipop uses a new method for compiling and running code. Dubbed ART (Android Run Time), it will enhance your device's performance four times faster, even on older hardware devices.
9. 64-Bit Support, Bluetooth LE, Network Switching, etc.: Android 5.0 Lollipop natively support 64-bit processors, so you will get more efficient apps, longer battery life and desktop-level performance.
The low energy Bluetooth technology (Bluetooth LE) on Android 5.0 will solve battery-draining issue if you keep the Bluetooth "always on" in your device.
Lollipop is also able to switch between different networks (Wi-Fi, 3G, 4G, etc.0 without losing your conversation.
10: New Apps: Besides the visual revamp, the Material Design-inspired apps in Lollipop bring new features as well. The new Messenger app makes it easy to send and receive SMS and MMS, the Settings app is now much easier to handle, the new Gmail app makes it easier to navigate your inbox, and more.