There are several tools available for transferring files wirelessly from PC to Android device and I had mentioned many of them and its usage in previous posts. Here is another tool called qrSend that lets you transfer file from your PC to your Android device via Wi-Fi network. As it name implies it creates QR code for any file or folder that you want to transfer from your PC, you just scan this QR code with your phone to start the transfer.
qrSend is quite simple to setup. Just install its Android app from the Google Play Store, then download and run the qrSend installer for Windows (a Linux version has available) from developer's website.
Now, just right-click any file or folder and select "Send with qrSend" under the 'Send To' menu in Windows Explorer to start the file transfer process. Run qrSend on your device and scan the code displayed. It that simple.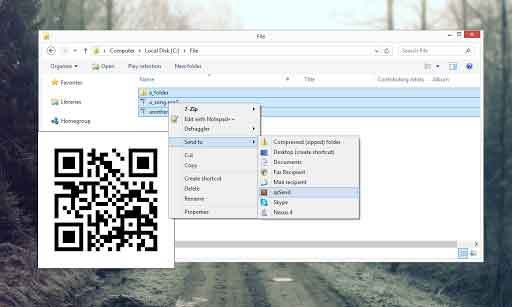 What is great with this app is that you can transfer files to your Android device from anywhere if both the PC and Android are connected on the same Wi-Fi network.
qrSend for Android requires Android version 3 and above and it's free.