Though, no adverse health problems have been established as being caused by mobile phone radiation until now, minimizing your exposure to cellular radiation can avoid any possible risk that might happens in the future. Here is a smart and practical way to minimize your exposure to cellular radiation with Tawkon app for iPhone, Blackberry and Android.
Keeping a distance (30 – 40 cm) between your ear and handset is the simplest way to minimize your exposure to mobile phone radiation, but Tawkon (free app) helps you do this in a smart way. It monitors and analyzes real-time mobile phone radiation as a function of dynamic SAR (Specific Absorption Rate) levels, environmental conditions and phone usage and tells you what to do right now.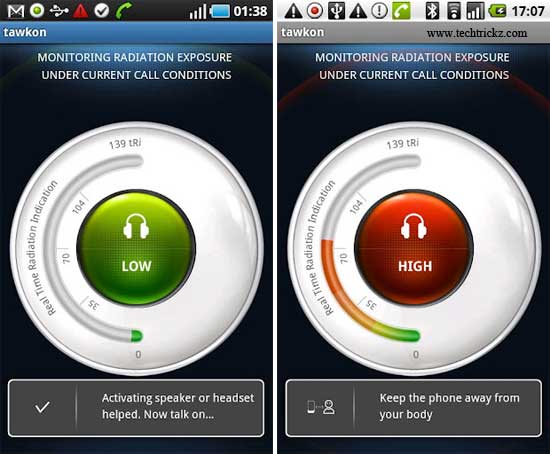 In simple word, it tracks your phone's radiation levels and tells you when you're OK to talk on and how to minimize your exposure to mobile phone radiation just when you need to.
Tawkon for Android gives the following features.
Real-time Radiation Indication: Before and during a call, a tiny icon on your home screen changes from green to yellow to red indicating low-moderate-high levels of radiation risk.
Danger Zone Mapping: Your phone works harder in different network and personal usage conditions.
Prediction Mode identifies those high radiation areas in your home, office or neighborhood.
Real-Time Prompt and Feedback: tawkon subtly alerts you when exposure to radiation rises during a call, with simple instructions to minimize risk. Real-time feedback confirms that your actions were effective.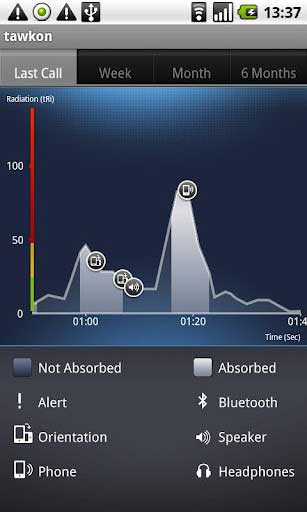 Personal Stats: Dynamic statistics show you how much radiation you avoided during the last call, day, week, month and six months.
Get more details and download at developer's website here. Android users can download the app from Android Market here.