Looking for an application to make your Android smartphone stay always fast and stop it from runs down? Smart Optimization Box can help you on that via its perfect battery management and system management services. It can help you stop draining your battery by starting Eco mode and speed up your phone by removing cache files, histories and terminating apps.
Smart Optimization Box is an easy to use Android app that provides a set of tools to manage your phone for maximum performance. Battery service management and System management are two main features of this tool.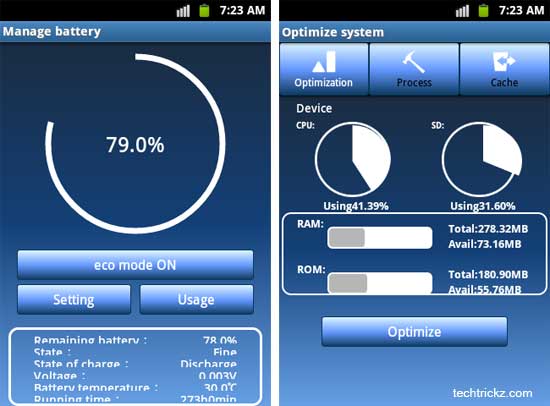 Battery service management helps you keep an eye on the battery condition and let you know whether to start the Eco mode. In Eco mode, the app will turns off Wi-Fi, Bluetooth, Sync service, vibration, volume and reduce brightness (you can adjust the brightness level from the option menu) to stop battery drain – all at the touch of a button.
System management lets you speed up your phone by deleting cache files, histories and by terminating running programs. You can optimize your phone with a click. Just tap the 'Optimize' button to improve the performance of your phone.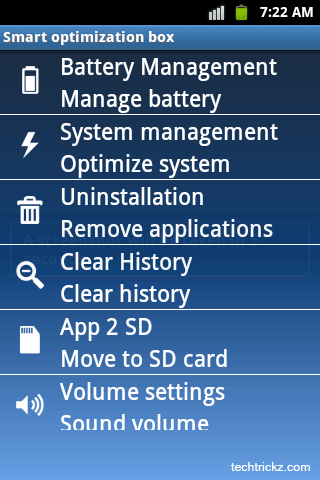 Smart Optimization Box has also a uninstall option to remove all kinds of apps easily from your phone, history deletion option to delete all search record in browsers, SMS/MMS and an APP 2 SD option to move your installed apps to SD card (or to phone memory).
Smart Optimization Box has also a home screen widget to perform all optimization and battery saving functions from your phone's home screen. The widget will not be available if the program is installed on SD card.
Smart Optimization Box can be downloaded from Google Play Shop for Free.