Few months back we have mentioned about sending texts, website links, YouTube video link, Google maps, phone number, etc to your Android phone from your desktop computer via your favorite browser Google Chrome and Firefox. Here is a new app for your Opera.
Opera to Phone is an extension that adds a button to Opera (Opera 11) that allows users to send links from their Opera desktop browser to their Android device using Android's Cloud to Device Messaging service.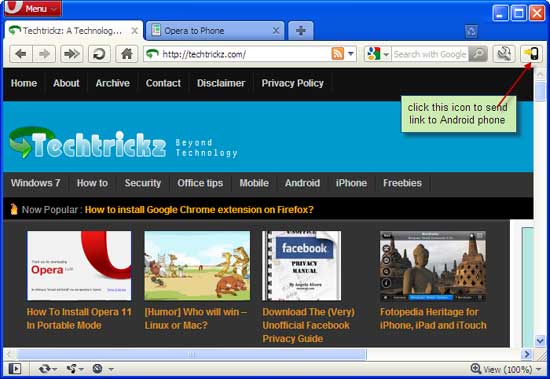 This is really useful while browsing the internet from your desktop and want to visit a mobile website on your mobile phone to get its full experience. It may also useful if you want to share a YouTube video link, map, etc to your phone.
You need to install the Chrome to Phone Android application on your phone for this extension to work. The application can be downloaded from Android Market. Download Opera to Phone extension.