Probably you might have heard about Google's new search feature called Google Instant, which is designed to get better search results instantly and saves time. When you type a search term in the search bar it predicts the most likely completion and displays results in real-time for those predictions.
How to access Google Instant feature? Currently Google Instant is available for few countries only (US, UK, France, Germany, Italy, Spain and Russia) and only supports Chrome 5 or later, Firefox 3 or later, Safari 5 (Mac) and IE 8.
To access Google Instant feature on other countries, either you must be switched to Google.com (see how to do so below) or logged in to a Google account. When you open Google.com, generally you might be redirected to your country Google domain. You need to switch back to google.com by clicking the link at the Google home page (see screenshot below).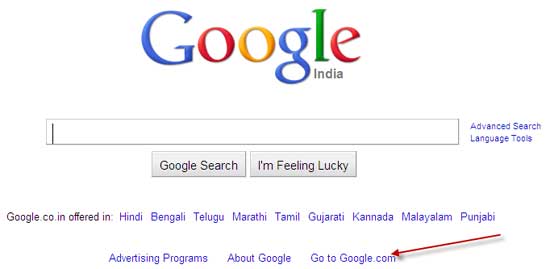 Now how to disable Google Instant search feature? If for any reason, you don't like this new feature and want to disable it, you can turn off it very easily.
You can turn off Google Instant in two ways. One is by clicking the Instant is on link next to the search box. Click on this link and choose Off option.


You can permanently disable Google instant if you don't like it. For that, enter your Preferences page by clicking the Search Option. Scroll down to Google Instant and select the "Do not use Google Instant" and save your preferences.

I Hope above tips will help you. Read more about Google Instant Search