For various reasons it may be necessary to edit the Hosts file on our computer, for example, to prevent users from browsing to some websites. However, in Windows 8, if you edit the Hosts file to block some websites, the built-in anti malware software Windows Defender will incorrectly detect the Hosts file as adware or spyware. Here is how to solve this issue.
Sometimes, malware programs such as adware and spyware change the Hosts file to redirect users to malicious websites. Therefore, Windows Defender may detect the Hosts file as a security threat, when you run a scan.
To solve this issue, you need to exclude the Hosts file from scanning in Windows Defender. To do this, in Windows8,
Open Windows Defender (search Windows Defender in the Apps section) and on the Settings tab, click Excluded files and locations.
Under File locations, click Browse, locate and then click the Hosts file. (By default, the Hosts file is located in the C:\Windows\system32\drivers\etc folder). Then, click Add, and then click Save changes.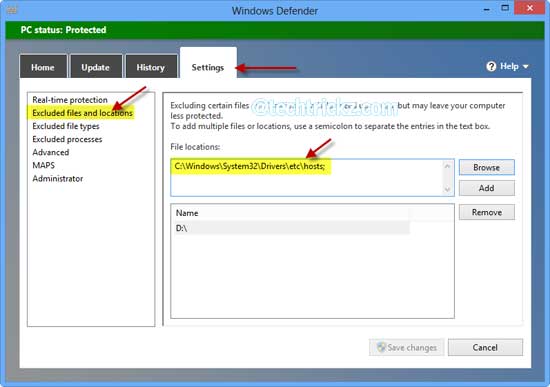 For your information, it is said that Windows 8 is much more secure than earlier versions of Windows. It has an antimalware software Windows Defender pre-installed and activated. This provides real-time protection against viruses, spyware and other internet threats, and is a replacement for Microsoft Security Essentials on the new operating system. [Via]