These days Smartphones are not just using for calling or texting, but it can be turned into several other useful tools that we need in our daily life. For example, our Android phone can be turned into a vibration monitor and use it to notify us when somebody tries to open the door when you sleep or an earthquake occurs when you sleep.
Vibration Monitoring is a simple app for Android phone that make use of the Accelerometer found on most phones for monitoring vibration. As you may know, Accelerometer is a sensitive sensor that reports vibrations to the device.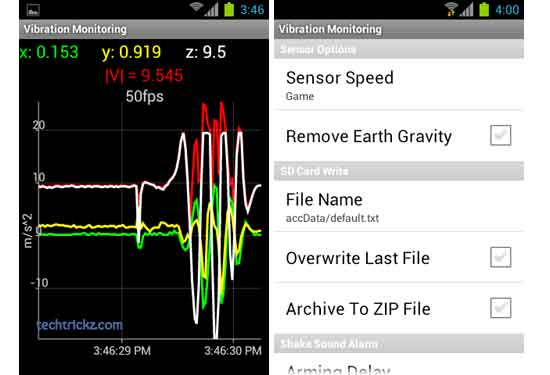 Vibration Monitoring can be used to detect any vibration that you need to monitor. The alarm function of this tool makes sound when a little heavy vibration occurs, for example, when earthquakes occurs or when somebody tries to open your door.
This tool has the following features: Shows vibrations in real time, saves vibration data into SD card and provides configurable sound alarm to inform you about the vibration.
From the settings menu you can configure the tool like sensor speed, alarm, etc.
Note: It's recommended to use the battery charger when it works for a long time.
Vibration Monitoring can be downloaded free from Play Store.