If you are live in a heavily populated residential area or only few neighbors with Wi-Fi routers, you may face problems from interference of your neighbors Wi-Fi signal, unless you separate your Wi-Fi channel from competing networks. Here is how to use your Android phone as a Wi-Fi Analyzer and find a less crowded channel for your wireless router.
As you may know, standard Wi-Fi routers use a range of channels spread across the 2.4GHz frequency. To stop your Wi-Fi signal suffering interference from your neighbor you will need to know what channel they are using. Wi-Fi analyzer is a free app for Android phone that lets you find a less crowded channel for your wireless router.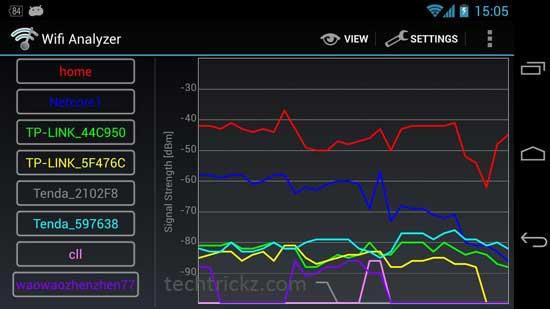 Wi-Fi analyzer is a simple to use tool, which shows the Wi-Fi channels around you. Just install and run it. Then switch to "channel graph" view to see the visualized graph.
If your router shows (you can choose your router by name and MAC address) a higher signal strength as shown in the image, it means you have better connection quality. Otherwise, you need to switch to a different channel.
Log into your Wi-Fi router to change the channel that give best signal. If you don't know the router password, refer manual, or visit routerpasswords.com. Keep in mind that, only select channel that meets your country's jurisdiction.
Wi-Fi Analyzer can be downloaded from Play Store for free. It supports Android 1.5 and above.