The new App Store in Windows 8 is growing into bigger with new apps and games each day. Users can discover new applications and games in the Store and install them on their Windows 8 computer. However, do you know how to search for apps and games in the App Store in Windows 8? Read below to know how it is.
Open the Windows Store by clicking the "Store" tile from Windows 8 Start Screen and press the Win + C keys on your keyboard to display the Charms Bar (You can also move the Mouse cursor to the top/right corner to display Charms bar).Then select the Search icon to bring the search box.
Or, just click Win + F keys, select "Store" from the list and start to discover apps and games.That's it!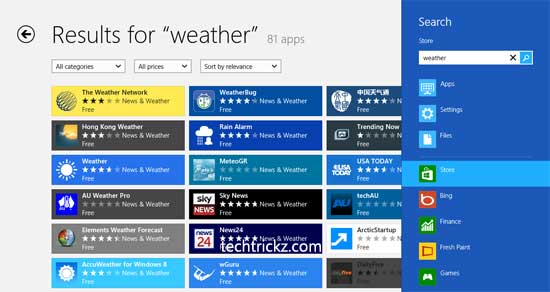 The Windows App Store is similar to Apple's Mac Store or Google Play Store where you can search, discover and install new apps (free and paid). Currently, most of the apps already in the Windows Store are games and other consumer-focused offerings.