There are several reasons for you to reinstall official firmware on your Moto E. After rooting and installing few custom ROMs on your Moto E you might want to go back to its original stock firmware, or if you want to unroot your Moto E or if it stuck at boot loop after flashing a wrong ROM or whatever reasons your Moto E became unusable. The below guide lets you know how to reinstall official firmware back to Moto E.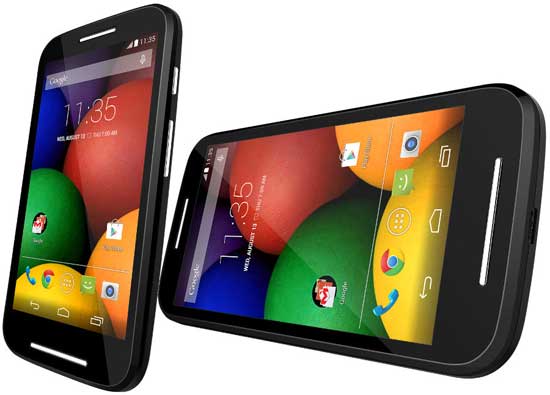 This guide lets you flash official Android 4.4.2 KitKat firmware on your Indian edition Moto E. However, please note that this procedure will not remove Unlock bootloader warning at boot time. You need to do few things to solve the issue. If you do not like the "bootloader unlock" logo on your Moto E, please follow this guide.
Instruction for reinstalling stock firmware on Moto E
1. Install Motorola driver on your Windows PC. Download the driver from here.
2. Download stock firmware from here. Download the correct firmware for your device. (For Indian version, download the third one)

3. After downloading the file, extract the xml.zip file to a folder on your computer. You can use 7zip for this purpose.
4. Download mfastboot from here. After downloading the mfastboot file, copy it to the directory where you have extracted the firmware files.
5. Now, restart your Moto E into bootloader mode. To do so, press Power button and Volume down key simultaneously few seconds and release both keys.
6. Now, connect your Moto E to your PC via USB cable.
7. Now, go to the firmware-extracted folder and in an empty space, Shift + Right click and choose "Open a command window here".
8. Issue below commands one by one.
mfastboot flash partition gpt.bin
mfastboot flash motoboot motoboot.img
mfastboot flash logo logo.bin
mfastboot flash boot boot.img
mfastboot flash recovery recovery.img
mfastboot flash system system.img_sparsechunk.0
mfastboot flash system system.img_sparsechunk.1
mfastboot flash system system.img_sparsechunk.2
mfastboot flash modem NON-HLOS.bin
mfastboot erase modemst1
mfastboot erase modemst2
mfastboot flash fsg fsg.mbn
mfastboot erase cache
mfastboot erase userdata
Note: While issuing all the above commands, you should get the status "OKAY" message.
9. After flashing all the files successfully and clearing the data and cache, reboot your device by issuing below command:
mfastboot reboot
Now you have successfully flashed the stock ROM on your Moto E. Enjoy! (source)