Google Assistant is an awesome feature of Android, but this smart personal assistant is available only on devices runs Android 6.0 Marshmallow and up. If you have not upgraded your smartphone to Android Marshmallow or Nougat yet or did not have the Google Assistant on your device, here is how to get Google Assistant on Android 5.0 and up with Nova Launcher. We have successfully tested it on Android 5.1 Lollipop. What is more, it does not require root access.
In this guide, we let you know how to get Google Assistant on Android 5.0 and up devices via Nova Launcher and without root access. The method works on both smartphone and tablet alike. All you need to install Nova launcher on your device and set language to English (US). Also, you can test it on Android Marshmallow and up, if Google Assistant not yet enabled in your region.
For your information, Google Assistant is considered an extension of Google Now, but this AI (artificial intelligence) powered Google Assistant can engage in two-way conversations. It helps you to do everything you want by long pressing the home button or by just saying the famous hot word 'Ok Google'.
Google Assistant is a built-in feature of Google App, but it is disabled in Lollipop and tablets. However, you can get by adding a shortcut of Google app activity (com.google.android.apps.gsa.staticplugins.opa.hq.OpaHqActivity) on the home screen. Now, read on to know how to get Google Assistant on your phone runs Android Lollipop and above.
How to Get Google Assistant on Android 5.0 With Nova Launcher
1. Install Nova Launcher from Play store [HERE] and make it your default launcher.
2. Now, long press on the Home Screen and select Widgets
3. Long press on Activities, and in the activity list, select Google App
4. In the list, scroll down and select com.google.android.apps.gsa.staticplugins.opa.hq.O paHqActivity
5. It will add a Google Assistant icon on the home screen. Tap on it to open Google Assistant.
6. Tap your 'Your Stuff' tab and then on 'Add reminder' and then close it.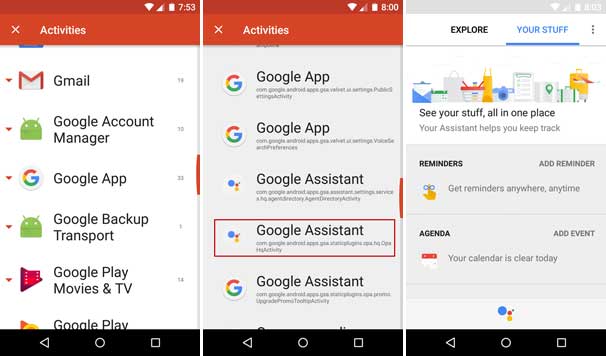 7. Open Google App, open menu, and then Settings. You should see Google Assistant settings. Teach the Assistant your voice and start playing with it.
Note: You cannot access OK Google by long pressing on the home button. Instead, it launches Google Now on Tap. (Source – XDA)