LED notification is one of the coolest features of Google's latest smartphone Nexus 5. Of course, many smartphones have this feature but limited to red and blue colors only. Notification light color  on Nexus 5 is completely customizable. You can assign different colors (red, blue, orange, green, purple, cyan, sky blue, etc.) for different notifications.
It is easy to customize the LED notification light on Nexus 5 with an app called Light Flow Lite – LED Control. This app provides a greater range of customization options and your phone requires no root access. The lite version (free) is enough for normal use, but the paid version support for over 600 different notifications.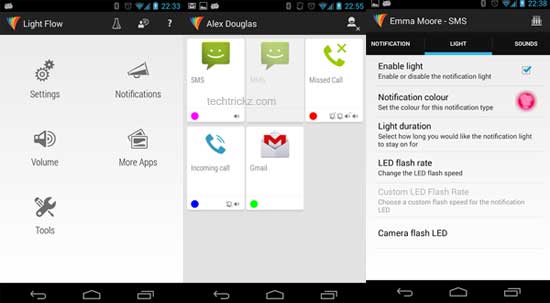 Using this app is simple. Once installed, opening the app will bring you to a permission screen asking you to enable notification access. After giving permission, go back to the Light Flow launch screen. It will display Settings, Volume, Tools, Notifications and More apps options.
Tap on the Notifications option and you'll see a scrollable list of notification cards. The notification will be highlighted if it is active, along with a colored circle on the bottom-left corner of the card indicating the color of the LED alert.
To customize the notification light color, tap on "Light" tab and tick the "Enable light" option. Then, adjust notification color, flash rate and light duration. You can select eighteen colors from cyan to sky blue.
Interested users can download Light Flow Lite – LED Control (free version) from Play Store.