Since Android 4.2 Jelly Bean, the Developer Option has been removed from their traditional place for obvious reasons, but you can get them back easily. Developer Option is essential for Android geeks to turn on USB debugging for those USB connections to your computer, adjust the speed of animations to add some extra snappiness, fake your GPS location, and more.
Here is a short guide on how to unlock Developer options and enable USB debugging on Samsung's latest device the Galaxy S5.
The Developer Options in Galaxy S5 has many essentials for Android enthusiasts. See below list of features:
Set a Desktop Backup Password
Force-Enable FXAA For OpenGL Games
See How Bad Task Killers Are
Stay Awake While Charging
Fake Your GPS Location
Enable USB Debugging
Disable or Speed Up Animations
Show Always-On-Top CPU Usage
Enable Developer options on Galaxy S5
1. To access the Developer options on your Galaxy S5, you'll first need to head over to Settings and scroll down to About device and tap it. Now, scroll down until you see Build number.
2. Now tap on Build number 7 times and you will see a message counting you down, and when you are done, it will congratulate you on unlocking the Developer Options.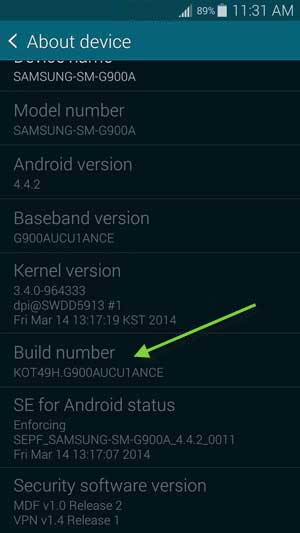 3. Now hit the back button to remove the main Settings screen and there you will now see the Developer Options buttons next to About device.
Enable USB Debugging
In order to enable USB debugging, go into Developer options, scroll down and check the box next to USB debugging.
Now you can connect your Galaxy S5 to your computer and use ADB on your computer, use tools like Odin, and more.