HTC Sync is an application that lets you sync your Outlook or Outlook Express contacts and calendar and bookmarks of your browser between your computer and your HTC phone. It also lets you install third-party Android apps on your phone and bring photos, videos, documents and songs to your phone.
HTC Sync 3.0 support Outlook 2003, Outlook 2007, and Outlook 2010 and is compatible with HTC Hero (Android 2.1), HTC Legend, HTC Desire, HTC Wildfire, and HTC Aria phones.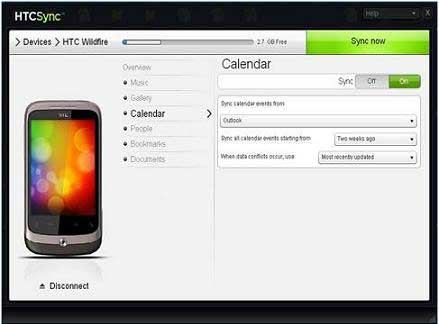 To use HTC Sync, after installation:
Connect your phone to the PC via USB cable
When your phone prompts you to choose a type of USB connection, tap HTC Sync, and then tap Done.
Wait for HTC Sync to recognize your phone. On the Device setup screen, enter a name for your phone.
Click Save. The Device panel then opens. On the Device panel, you can set your sync options, see your phone's general information, check the used and available space on your storage card, and begin synchronization.
More details and download available at HTC.