TeamWin Recovery Project has released an official TWRP app on the Play store to help users to quickly find latest version of TWRP recovery image file for their Android device. The app checks for new version of TWRP recovery image (.img) file available for a device and provide an option to download it, which you can install right from the app, if you grant root permission. For version checking, the app does not require root access.
In this guide, we show you how to install latest version of TWRP recovery image using the official TWRP app. Note that, currently the official TWRP app is only able to flash recovery images from internal storage. The developer will add the ability to use additional storage locations in the coming builds.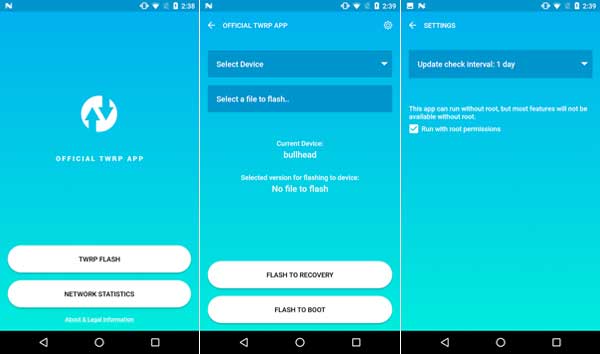 TWRP recovery is an essential component for Android development. In order to install a custom ROM, flash Mods, Kernel, etc. you will need to have installed a custom recovery, such as TWRP. TWRP is available for most devices, and it will also provide a good way to backup both your data and the device's stock ROM.
You can download official TWRP app from Play store here. It is free and quite simple to use. Read on to know how to use official TWRP app to flash latest version TWRP recovery on your device.
How to Flash TWRP Recovery Image Using Official TWRP App
1. Download and install official TWRP app on your phone.
2. Open the TWRP app and tap on 'TWRP Flash'.
3. The app will ask for root permission. Just grant root access
4. Now, select your device using the 'Select Device' drop down menu.
5. Once your device is identified, a list of all available TWRP recovery image versions for your device will list.
6. Select latest version from the list. You will be redirected to TWRP recovery image download page. Download and save the file to the internal storage of your device.
7. Now, go back to the Official TWRP app, tap on 'Select a file to flash..' button, select the TWRP recovery .img (you have downloaded), and tap on 'Flash to recovery' button. (source)