WhatsApp is one of the most popular instant messaging apps among Android smartphone users. You can text, share photos, video and audio media messages with your contacts. As known by all, WhatsApp stores all conversations, images, audio files and video files on Android device, which may have your private photos and messages.
If someone is managed to access your phone, he or she can easily read your conversations and see your private photos. Now, are you looking for a way to hide your WhatsApp private messages and photos from your friends, family members or others?
The simplest method is locking down your phone using PIN or Pattern screen lock, but if you want something more to protect your WhatsApp, you can consider a simple app called "WhatsApp Lock". It lets you protect your WhatsApp messages and photos with a password. Also, if someone tries to unlock the password it captures the photo of that person.
How to use WhatsApp Lock app?
1. Install WhatsApp Lock app on your phone from Play Store here.
2. Once the installation completed, it will ask you to enter 4 digits PIN. Enter any 4 digits number and click Ok. On next screen confirm it again.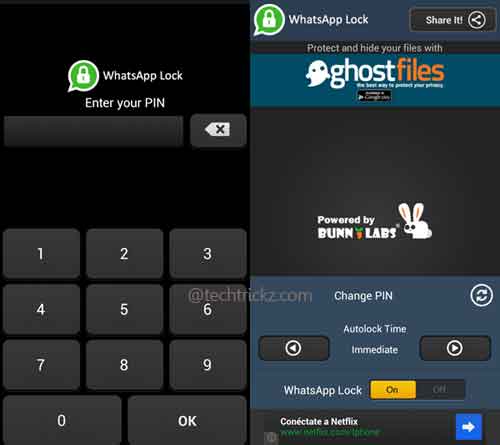 3. Now, on the next screen, you will see ON/OFF WhatsApp Lock option. Turn it to ON position. That's it.
Now you have successfully protected your WhatsApp from praying eyes. If you really wish to keep your WhatsApp conversations and photos private, then I recommend you install this app.