Every one's favorite clean up tool CCleaner for Android is now available on Play Store. It gives your cluttered Android phone a thorough tidying up by letting you removing application cache, browsing history, call logs, text and clipboard contents – all via a straightforward interface.
Besides the junk cleaning job, with the facility to monitor your processor, memory, storage space and battery levels as well as options for managing uninstall apps and manual cleaning up, its developer Piriform claims the app will keep your device running as good as new.
However, it misses some important features such as process management, memory cleaning and cleaning of custom folders. The developer will be released these features imminently.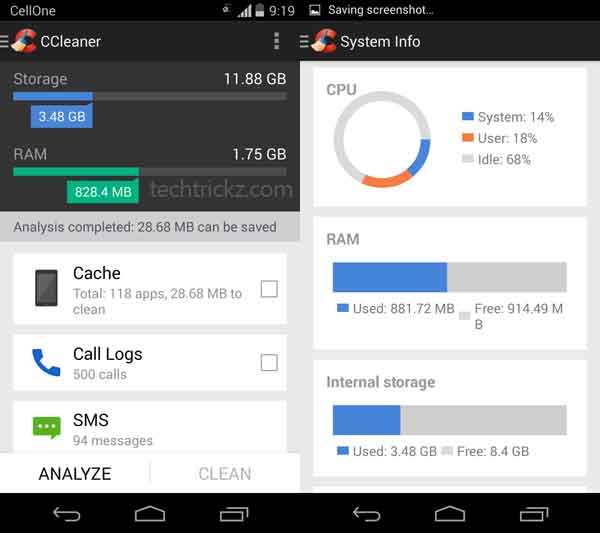 CCleaner for Android is completely free and without ads. It is extremely fast and very simple to use. It has a very simple interface and no confusing options.
How to use CCleaner for Android?
1. Once installed from Play Store, run it. Tap 'Analyze' button to prompt a scan of your phone. The result will show you how much space you can save by removing junks. All you need to check the boxes for the data that you want to clean up. Then tap 'Clean' option.
2. From the same screen, you can manually clean app data. Just tap desired app and then tap clear data option.
3. CCleaner for Android has also a uninstall option. Go to main menu and select the 'App manager' option. Apps are split into Installed apps and System apps. Select the app that you no longer needed and uninstall it.
4. To get real-time system information, from the main menu menu, select 'System info'. It actively scans your system and display information about CPU, memory, battery condition, etc.
CCleaner for Android can be downloaded from Play Store.