Scrolling screenshot is a nifty feature of Samsung Galaxy S7 and S7 Edge, which lets you capture vertically scrollable areas of the screen (not only the active screen). This feature can be useful in many occasions, for example, if you want to share a long webpage, Facebook page or WhatsApp conversations to some of your contacts or friends.
Currently, the scrolling screenshot function is limited to Samsung Galaxy S7/S7 Edge owners only (this feature was on Galaxy Note 5 and it is refined in Galaxy S7), but there is a way to implement the same function on any Android phone. Read on to know how to get Galaxy S7 scrolling screenshot function on any phone.
Stitch & Share is a free app that brings Samsung Galaxy S7's Scrolling screenshot like function on any phone running Android 4.1 and up. The function of this app is simple. If you want to take screenshot of a scrollable area, just take screenshot of each active window and the Stitch & Share app stitches them in one long screenshot. The result will be the same as in Galaxy S7.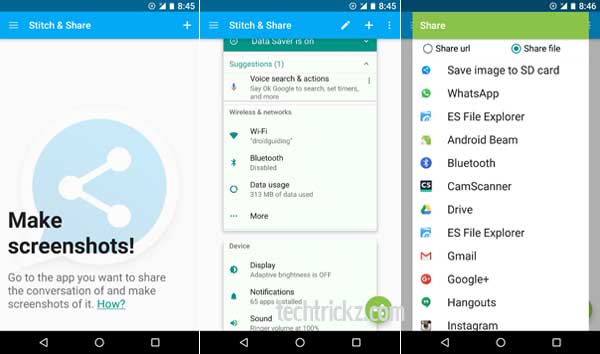 How to use Stitch & Share app to take Scrolling Screenshot on Any Android Phone
1. Install the Stitch & Share app [HERE]. It is free, but ad supported.
2. Run the app and go through the tutorial. Close the app and go to the next step.
3. Take a series of screenshots of a scrollable area, for example your WahtsApp conversations.
4. Open Stitch & Share app and tap '+' button to add your screenshots. You need to add each screenshot individually.
5. Once done, Stitch & Share app automatically aligned all of your screenshots into one continuous picture.
6. Tap on the pencil icon to add any note on the screenshot.
7. Finally, tap the big 'share' button to share your screenshot. Do not forget to select the "Share file" option before sending files.
Note: You can save the screenshot image (in png format) locally on your phone, if you want to share it at later time.
The only problem I have noticed with this app is that it cannot automatically stitch screenshots. However, using the app is quite easy and the result is same as in Samsung Galaxy S7.