When installing Google Chrome it creates a unique ID on your system. This client_id variable is unique for every Chrome user, and which can be used to create exact user profiles of a user's actions while using Google Chrome.
Although , this ID is mainly intended to remove duplicate installation reports from Google servers, you can remove this from your computer for privacy.
As Google doesn't make it an easy job to remove this ID, you can use any of the two free tools described below to remove the mentioned ID.
1. UnChrome is a free tool that can replace your unique ID with Null values. So that your browser can no longer be identified. The functionality of Google Chrome is not affected by this. You only need to apply UnChrome once.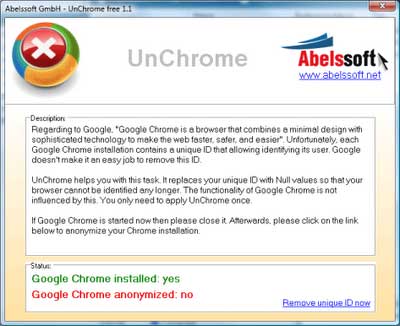 How to use it? Run UnChrome, and when it has successfully completed you can delete the installation file. No need to save it, since it need only be run once and you'll remain anonymous through upgrades to Chrome.
2. Another tool is Chrome Privacy Protector which lets you remove Google Chrome ID from your Google Chrome installed on your computer.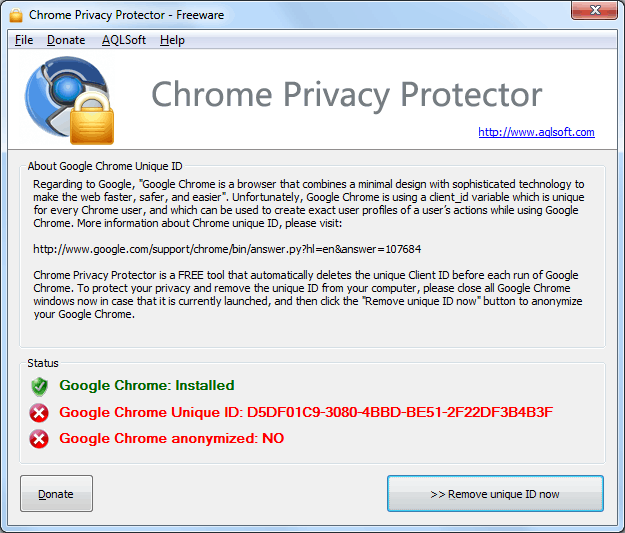 To protect your privacy and remove the unique ID from your computer, launch Chrome Privacy Protector, and then close all Google Chrome windows now in case that it is currently launched, and then click the "Remove unique ID now" button to anonymize your Google Chrome.