Though the stock weather widget on the Samsung Galaxy S4 (AccuWeather) looks fine and brings right amount of information at a glance, it misses an important option – there is no option to change its transparency. Weather information that blends with the device wallpaper looks awesome (at least for me!).
If you would like to make the stock AccuWeather widget transparent on your Samsung Galaxy S4, you can simply do that with the transparent AccuWeather widget created by an XAD a developer Reverepats.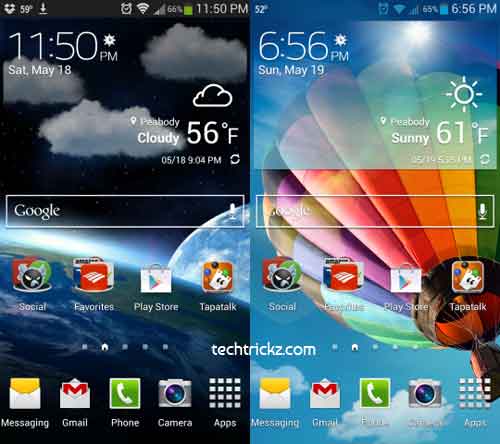 How to Make the Stock Weather Widget Transparent on Galaxy S4?
It is quite simple to install the widget. The developer reverepats has released two variations to the stock weather widget – one is a 70% transparent and other is a 100% transparent one.
– Download desired one from the source (download link below).
– Move the file to your internal SD card.
– Go to recovery mode and flash the file.
That's it!
How to switch back to the original Stock Weather Widget?
Ok, incase if you want to switch back to the original widget, download the restore file from the source and simply flash the file in recovery mode.
Download 100% transparent, 70% transparent and original AccuWeather widget from source.