Huawei is known for its timely update their smartphone to the latest Android versions. Huawei's sub brand, the Honor 6X (BLN-L22) starts getting the official Android 7.0 Nougat update (B301) with EMUI 5.0. The update includes various new features, refined and intuitive user interface, several Indian languages, VoLTE for RIL Jio and latest Android security patches. Huawei starts rolling out the EMUI 5.0 OTA update (B301) for Honor 6X BLN-L22 (India) model and will reach on all devices in a few days.
Huawei's EMUI 5.0 (Android 7.0 Nougat) brings new features like night mode, new notification system, better battery life, data saver mode, App twin, Huawei share, new Emojis, new Indian languages, etc. as well as performance enhancements to Honor 6X. Check out full changelog here.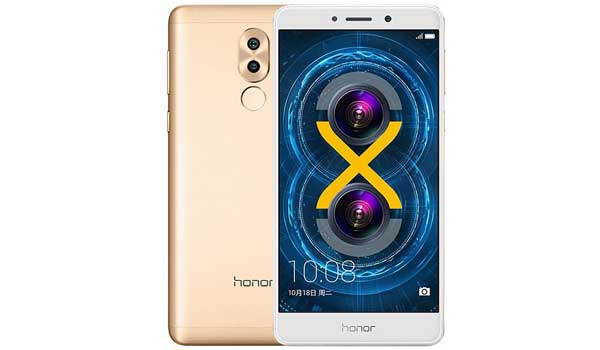 Since the OTA update is rolled out in phases, it will take a week or more to get on all Honor 6X phones. If you have not received the OTA notification, you can force update your phone by using Huawei's HiCare app. To know how to force update your Honor device using HiCare app, check out this guide.
You can also manually install the Android 7.0 (EMUI 5.0) update on Huawei Honor 6X by downloading the firmware. Check out the guide below.
Important: The firmware file given below is for Honor 6X BLN-L22 only (India). Do not install it on other 6X variant. Your phone should be on stock firmware and recovery to install the Nougat update.
Note: Ensure your phone is fully charged. As always, back up any important data you have on the phone.
How to Update Honor 6X to Android 7.0 (EMUI 5.0) Manually
Disclaimer: Follow the instruction at your own risk. We will not be liable if any damage occurs to your device and/or its components. It is recommended for technically talented users only.
First Method:
1. Download Honor 6X B301 firmware file (update.zip) from here and unzip it using an app like 7Zip.
2. Now, create a folder 'dload' in the root of your SD card. Copy and paste the update.app file (extracted firmware file) in the 'dload' folder.
3. Now, open the phone app and dial *#*#2846579#*#*. It will open the software upgrade menu.
4. In the menu, select Software Upgrade > SD card Upgrade, then select and run the update.
5. Once the process is completed, reboot your phone and enjoy the all new EMUI 5.0 and its features.
Second Method:
1. Download EMUI 5.0 update for Honor 6X (update_data_full_BLN-L22_channel_in.zip) from here and unzip the file.
2. Now, go to the 'delod' folder and delete all the content. Then copy the entire file, including update.app from the extracted firmware file and save them in 'deload' folder.
3. Dial *#*#2846579#*#* in dial pad to get the software upgrade menu, select Software Upgrade > SD card Upgrade and then select and run the update.
4. The update will start and once completed, reboot your device.
Now you have successfully installed the latest stock firmware on your Huawei Honor 6X. Any question? Leave it in the comment section below.