Comodo has released a free, handy tool called Comodo Programs Manager that offers some unique functions to keep your computer in good shape.
It can be used to completely remove failed and partially uninstalled programs, unwanted driver files, locked (in use) files, registry entries, Windows components like MSN Messenger, Windows updates, services, etc.

It has a built in malware scanner that can detect malicious (malware) setup files as soon as you begin to install a software.
It monitors new programs, drivers, services and Windows updates and checks whether or not they contain malicious code and inform you.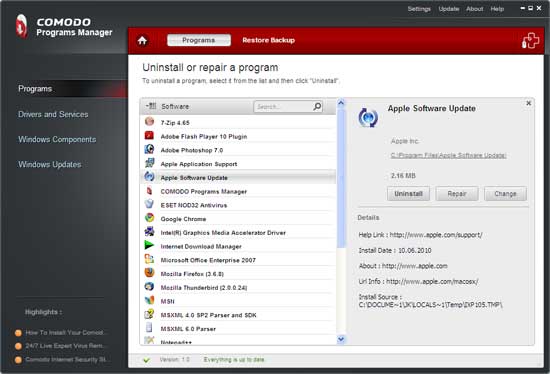 Moreover the backup function lets you create backups for applications, drivers and services before uninstalling them so you can be easily restored if uninstalled mistakenly.
More details and download available at developer's page