Though the smartphones are not as vulnerable to dive by downloads and other infection methods as PC are, the recent reports from the security experts reveals the importance of taking precautions. Mobile security apps are now offered by most of the big security vendors (I have mentioned some of them in the previous articles) and now Avast has released a free, full-featured Antivirus and Anti-Theft security for Android phone.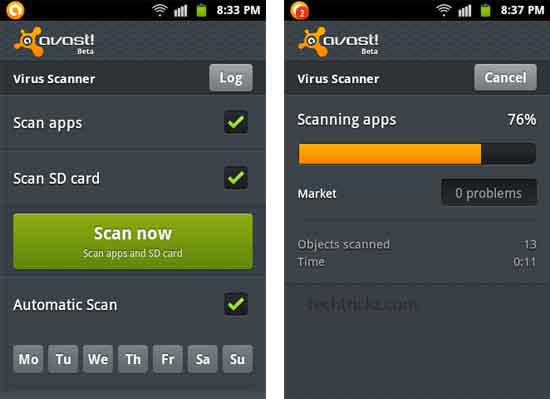 Avast Mobile Security for Android features an on-demand virus scanner, Anti-theft system, Web-shield and a Firewall protection. Following are short description of Avast Mobile Security features.
Antivirus: Scans installed apps and SD card content, as well as on-access scans of apps upon first execution. You can also schedule scans, uninstall apps, and delete files.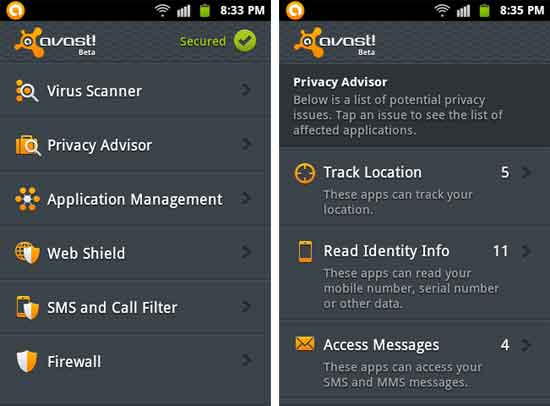 Privacy Report: Displays access rights and intents of installed apps. You can identify potential privacy risks – how much info you are really providing to each app.
Web Shield: The Avast Web Shield for Android scans each URL that loads and warns you if the browser loads a malware-infected URL.
Firewall: Disables an app's internet access when on WiFi and 3G and roaming mobile networks. (Works only on rooted phones)
Anti-Theft: Offers history wipe, phone lock, siren activation, GPS tracking, audio monitoring, and many others via remote SMS commands. The 'invisible' app hides itself, making it extremely hard for thieves to find and disable it.
Get more details and download Avast! Mobile Security (beta) from Android Market