Introduced with Windows 10, Microsoft Edge browser is now available for Android devices also. Android users can now experience Edge's features like Continue on PC, Hub View, Reading view, Data Sync, etc. Microsoft Edge Preview version is now available on Play store or you can download its APK and install it manually on any device runs Android 4.4 KitKat and up.
Microsoft's Edge is the fastest and secure browser out there and easy to configure everything. For Android, currently Edge is an 'unreleased' version, so the browser may be unstable. However, you can try the new browser and its awesome features like 'Continue on PC' right now on your device.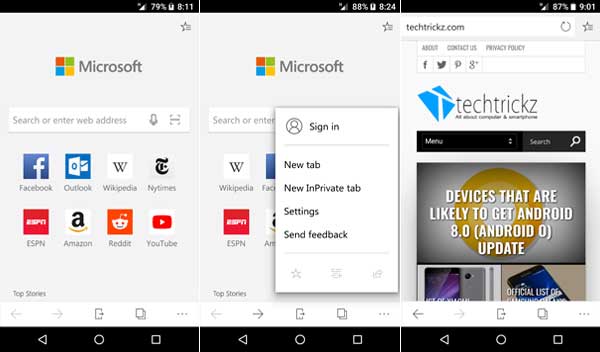 There are plenty of great selections for web browsers on Android, like Google Chrome, Firefox, Opera, etc. These browsers are great and each has its own unique features. Microsoft's Edge has also some unique features and one among them is 'Continue on PC'. This feature allows users to open photos, docs and web pages on their Windows 10 PC from their Android phone.
For your information, few days back, Microsoft renamed its popular Arrow Launcher for Android as Microsoft launcher with new features like 'Continue on PC'. Read here for more details.
Besides the common features like Reading mode, data sync, InPrivate mode, Voice Search, etc. Microsoft Edge preview (unreleased) version also offers features like Hub View (favorites, reading list, history and books all in one place), QR Code Reader, etc.
Interested users can download Microsoft Edge for Android from Play store [here] or its APK from here.